~ 6/13/18 ~ An award presented by my employer for my work with Paws4Life, Inc. What an honor to be recognized! This is for all the kitties and everyone who has supported us and our mission!!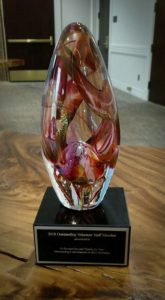 Please visit our Facebook page and Like us so you can stay up to date on all of the kitties.
~ Much Appreciated Mews Monday! Here are 6 more kitties who will not be adding to the stray/feral cat population 🎉🐈 (Thank you, Tina, for all your hard work with trapping, transporting, recovering, & releasing). Tina also tries to find homes for the friendly ones if anyone is looking to adopt.

We are grateful for the donations to our spay/neuter fund which allows us to help others towards stopping the cycle. If you'd like to contribute to this fund you can do so by sending a donation through PayPal & send to: [email protected]

Thank you for helping us in doing what we can to Be Part of the Solution! 🙏🐈 ...