There are many ways you can help, and we welcome any assistance you can provide! (Note: Your donation may qualify as a charitable deduction for federal income tax purposes. Please consult with your tax adviser.)
~ When you make purchases through Amazon.com please go to their website by using this link. We receive 0.5% of purchases made through our Amazon Smile page.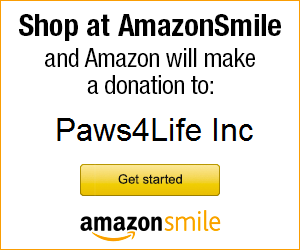 ~ Visit our Etsy shop where you'll find lots of "cat-themed" items that would make perfect gifts for your cat loving friends or maybe your kitty would like one of our no-sew fleece blankets!
~ Visit our shop on CreatePhotoCalendars where you can purchase merchandise with our logo and/or photos of our felines. Your purchase supports the work we do.
Here is a list of our current high-priority needs:
PetSmart gift cards for pet supplies
Amazon Wish List items and Amazon gift cards
Monetary donations for pet supplies
Monetary donations for veterinary services

Please call Mercy Animal Hospital and ask how you can donate money toward Paws4Life, Inc. next vet visit (704) 821-8100

Post office box fee (currently $51 per quarter)
US Postal Service mail stamps
We accept Paypal donations as well. (Note: You do not need a PayPal account to donate.)